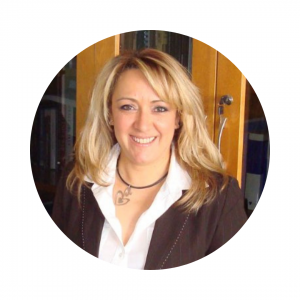 Fotini Bellou is an Assistant Professor of International Relations at the Department of International and European Studies at the University of Macedonia and Head of the UNESCO Chair of Women, Peace and Security: Building Capacity and Resilience. 
She is a graduate of the Department of Political Science and Public Administration at the University of Athens Law School, holds a master's degree from the Department of International Relations of the University of Kent in Canterbury, UK/United Kingdom and a Ph.D. in International Relations from King's College, London, Department of War Studies.
She also teaches in the Interdepartmental Joint Postgraduate Program "International Relations and Security" with the Higher Interdisciplinary School of War in Thessaloniki, gives regular lectures at the Multinational Peace Support Operations Training Center in Kilkis and is a Special Adviser to the NRDC – GR in Thessaloniki on issues of civil-military cooperation and gender issues.
From 2000-2004 she was Research Fellow at ELIAMEP and Coordinator of the Review of Journal of Southeast European and Black Sea Studies (Taylor & Francis). She was Head of the Department of International Relations of the Research Center for Equality Issues (KETHI) of the Ministry of the Interior between 2004-2007. Her research interests focus on international and European security, transatlantic relations, issues of international crisis management and conflict resolution, as well as the "Women, Peace and Security" agenda.